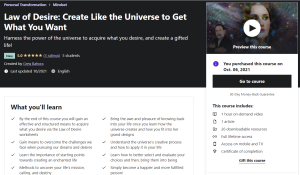 Some cool news–I just published my second on-line course.
It's entitled "The Law of Desire: Create Like the Universe to Get What You Want".
With all the self-help systems available, it was time to tailor Centerpath's concept to a system people can use to find their true passion and acquire what they desire—all in accordance with the universe's great creative process!
Because the course is brand new, check it our for FREE for the next 30 days (applies to the first 100 that sign up).
https://www.udemy.com/course/law-of-desire-create-like-the-universe-to-get-what-you-want/?couponCode=LAW_OF_DESIRE_FREE