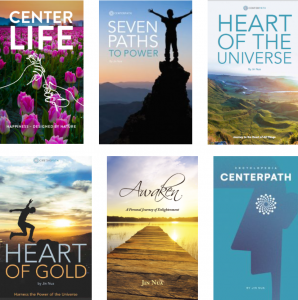 Jin has generated a host of spiritual, self-help, and children's books as outlined below. Read more about the books by clicking on the links below or you can directly purchase Jin's books at this Gumroad Link: Buy Jin's Books Here!
You can also purchase all of Jin's books (except 'The Centerpath Papers') at Amazon at this link.
Centerpath Books
Jin has generated the following self-discovery, self-help, and spiritual books based on his Centerpath formulization.
Kid's Books
Jin's three kid's books provide great insights to life and growing up. A true delight to parents and children alike!
A Walk on the Beach (is now available at this link)
Raindrops (is now available at this link)
Behind the Door (available at this link)
Leadership/Management Books
Jin's leadership book has been described as the 'Dilbert meets Animal Planet' book of management! Check it out!
Hope you enjoy!